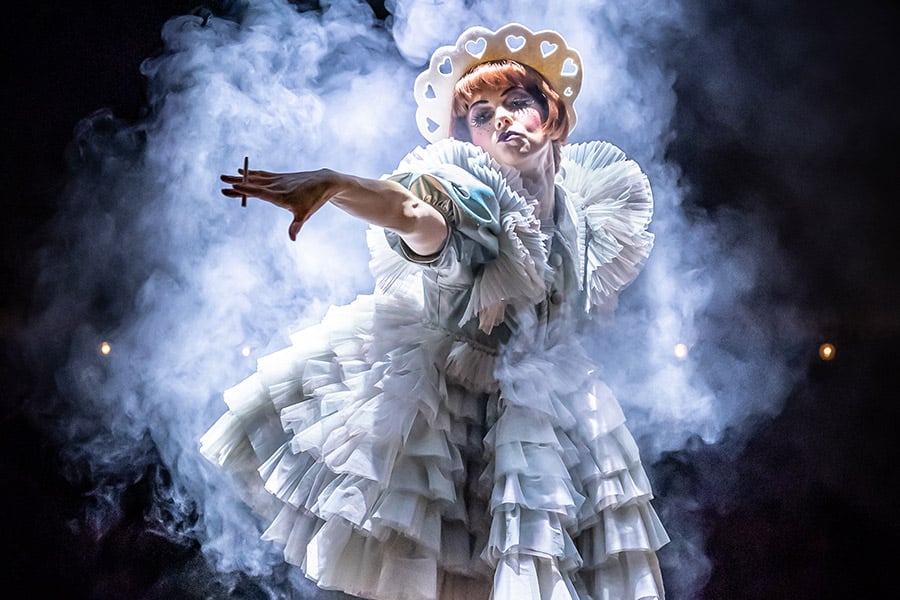 It's just won seven Olivier Awards and is officially the hottest ticket in town. Stylist stepped inside London's Kit Kat Club to find out more
As soon as you step into the depths of the Kit Kat Club at London's Playhouse Theatre, you feel part of something special. Something intimate. Something so darkly decadent that it's little wonder this new production of Cabaret has become the West End's most talked-about show. Willkommen to the wonderful world of Cabaret…
IMMERSE YOURSELF
Without wanting to give too much away, this Cabaret revival is so much more than your average musical – the magic starts as soon as you arrive at the theatre (aka, Kit Kat Club at the Playhouse). Before the show, guests can immerse themselves in the opulence of 1930s Berlin with three themed bars, a menagerie of stocking-clad performers, plus coupes of chilled champagne to sip while you take it all in. And yes, dressing up (slips, corsets, kimonos, full evening gowns) is very much encouraged.
BE DAZZLED BY THE CAST
While the original cast production included the likes of Eddie Redmayne and Jessie Buckley, it's the new principal players who got our attention. Amy Lennox gives an astonishing performance as the spirited yet fragile showgirl Sally Bowles (we're still lusting after that green fur coat btw), while Hawkeye's Fra Fee's sinister Emcee adds a darkly comedic edge with a side of schoolboy charm. The whole show hums with faded glamour and rebel sensuality, backdropped by the growing threat of political unrest as the Nazis start to seize control of the city. The chorus dancers' fluid movements gradually become more rigid and uniform as the performance presses on. Sally's swan song (Cabaret) is delivered as a devastating ode to the world that's now falling apart around her. Goosebumps, guaranteed.
LIFE IS A CABARET
Finally, the most memorable thing about this Cabaret production is that it captures many of the themes explored in both the original pla (I Am A Camera by John Van
Druten) and the book Goodbye To Berlin by Christopher Isherwood. We as the audience act as voyeurs, watching the characters succumb to the growing disquiet and unease that's taking hold of the theatre. Ultimately, Cabaret is a musical about the power of being free to live the life you choose, and this breathtakingly stunning show celebrates that. Life is a cabaret. Let's start living like one.
GET YOUR TICKETS
It's the must-see show of the summer
Don't just take our word for it, Cabaret cleared up at the recent 2022 Olivier Awards winning seven accolades, including Best Director for Rebecca Frecknall and Best Musical Revival. It's become the toast of the West End and tickets are literally selling like hot cakes. Seats start from just £30, plus there are a variety of packages (including stage-side tables and pre-show taster menus) to explore. We recommend booking tickets, like, right now.