Moët & Chandon Suite
Our private Moët & Chandon Suite is available to host a standing reception for 8 to 26 guests for the ultimate Cabaret experience.
From £300pp + ticket
What's included
The Moët & Chandon Suite at the Kit Kat Club offers unforgettable hospitality to intensify the enjoyment of CABARET. This new experience gives audiences the opportunity to enjoy Champagne, Cocktails, and delicious food while entertaining friends, family, and colleagues within a dedicated private suite in the heart of the club. You can expect:
Early access and VIP private entry to the Kit Kat Club before the public
Dedicated hosts and service for the entire evening
Signature Moët & Chandon cocktail on arrival - 'The Toast of Mayfair'
Moët & Chandon Brut Impérial reception before the show
Gourmet savoury canapés, bowl food and dessert
Premium Wines, Beers, and Soft Drinks
Moët & Chandon Rosé Impérial reception during the interval with paired dessert
Soft Pretzel
Private washrooms and cloakroom
Drinks and snacks available in all bars throughout the Kit Kat Club
Premium seats in the front row of the Dress Circle
Souvenir Brochure
WHAT TO EXPECT
Your journey begins with early entry to the Kit Kat Club, where up to 26 guests will be escorted into the suite by your VIP host. After enjoying a welcome signature Champagne cocktail ("The Toast of Mayfair") and Canapés, you are escorted to your premium seats in the front rows of the Dress Circle.
At the interval, you are whisked past the crowds back to the suite, where more Cocktails, Champagne, and Desserts are served before returning to your seats for the final act. The Suite also has a private Cloakroom and WC's.
Speak to our team about ways to further enhance your experience such as: 
- Swap your tickets for our stage-side tables with cast interaction
- Upgrade to Dom Pérignon or Krug as your champagne of choice
- Chauffeured car service to and from the Kit Kat Club
- Host an intimate sit-down dinner from our top London Chef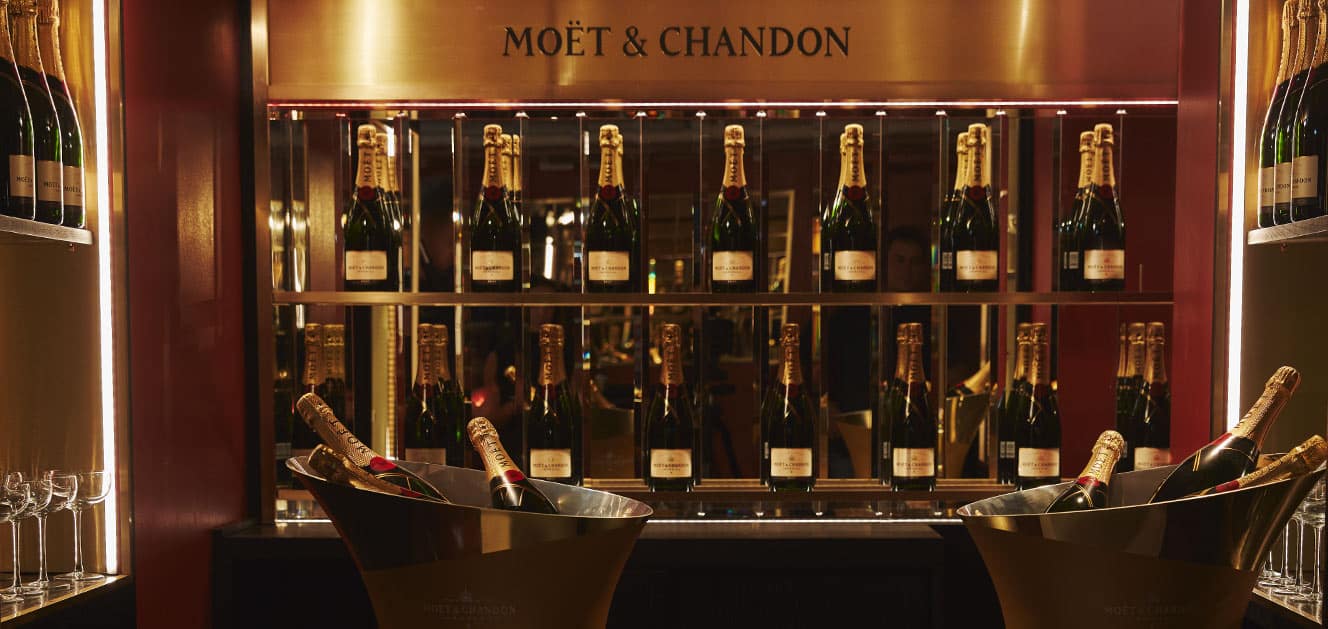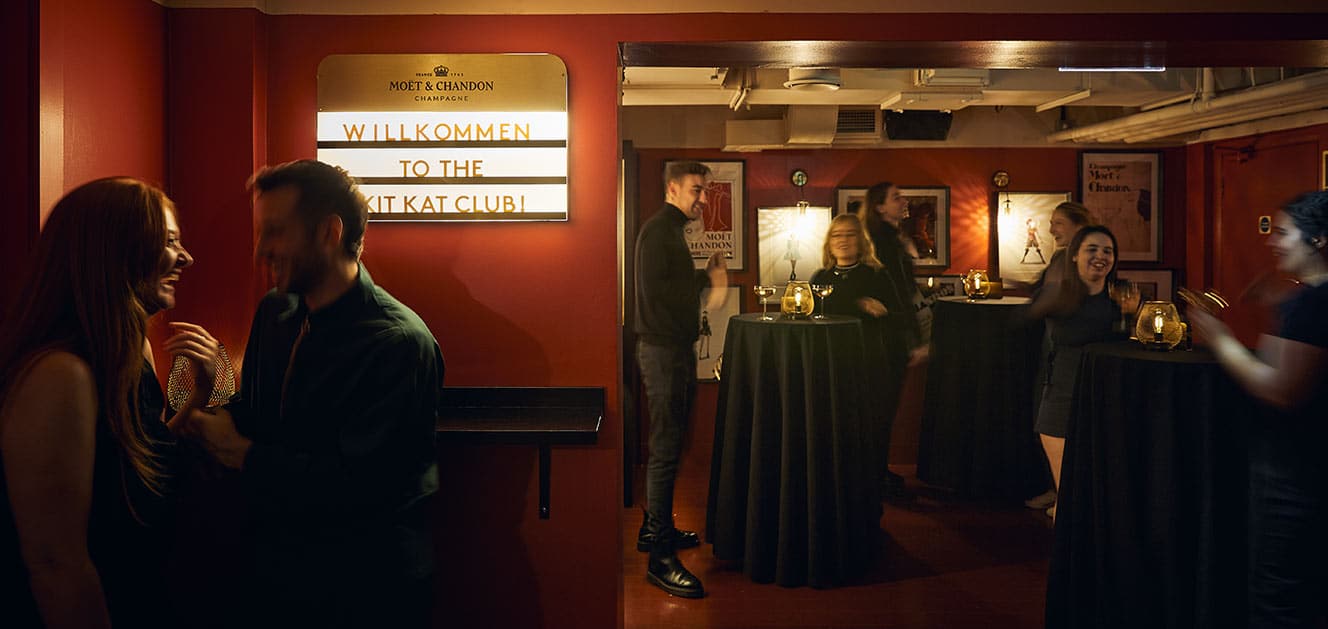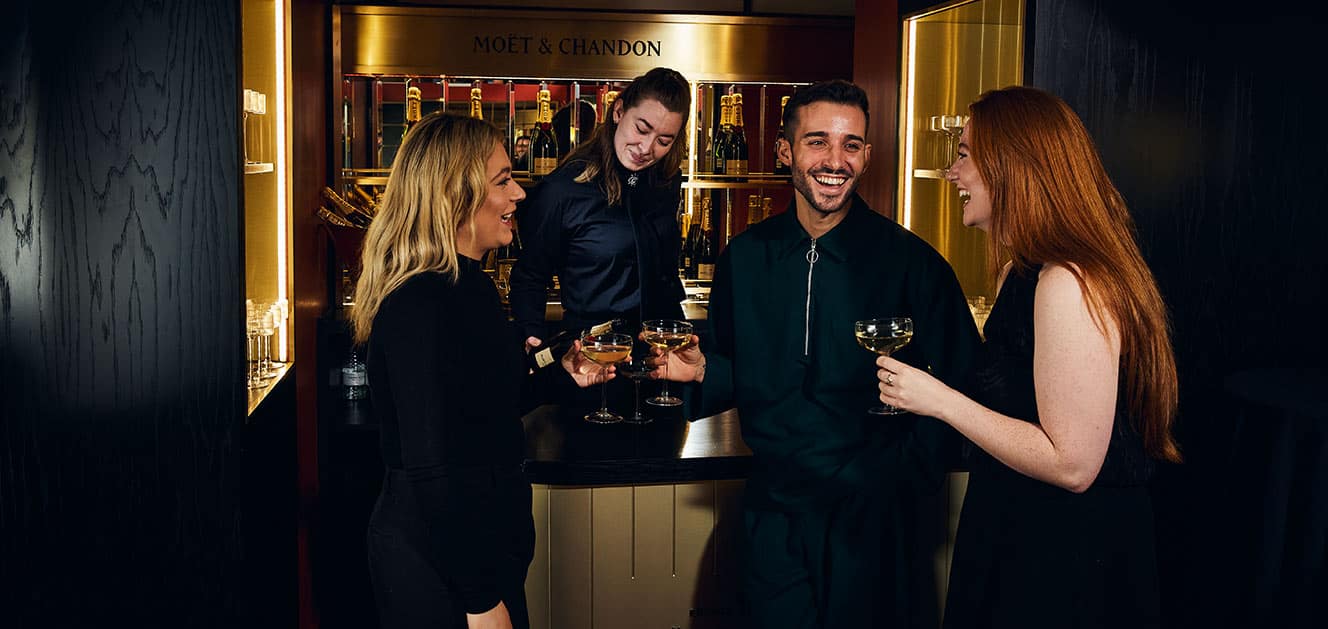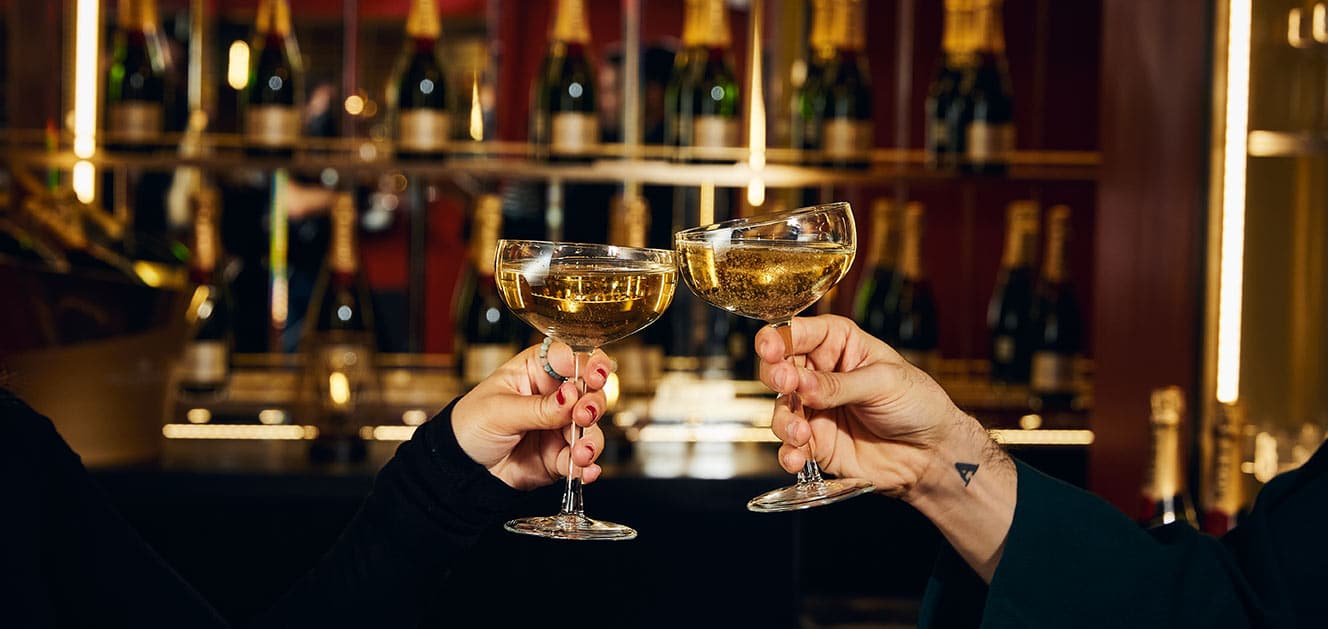 SAMPLE SEASONAL MENU
 Chilled Andalusian Gazpacho
Allergens: Celery     
Salt Baked Baby Potato, Caviar, Crème Fraiche, Baked Aubergine
Allergens: Milk, Fish  
Whipped Cods Roe, Smoked Paprika, Charcoal Cracker
Allergens: Milk, Wheat, Sulphates, Fish   
Cured Lomo, Crumbled Perl Las Blue, Quince Jelly
Allergens: Milk  
Crispy Ox Cheek Bon Bon, Horseradish And Mustard Emulsion
Allergens: Mustard, Wheat, Egg
Marinated Salmon, Chilli, Sesame, and Lime Dressed Green Bean Niçoise
Allergens: Sesame, Fish, Sulphates  
Baked Pumpkin Risotto, Aged Parmesan, Crispy Sage
Allergens: Milk, Sulphates  
  Raspberry Sorbet, Moët & Chandon Jelly
Allergens: Milk, Sulphates, Egg, Wheat    
Chocolate Brownie, Caramelized White Chocolate, Sea Salt, Bitter Chocolate Sauce
Allergens: Milk, Soya, Egg
 We are unable to guarantee that there will be no cross contamination of allergens, such as nuts, in the kitchen where our food is prepared. Please speak to the concierge for current menu, allergens and ingredients. Allergens, dietary needs and menu selection, where applicable, required in advance of visit. 
SAMPLE DRINKS MENU
Enjoy a selection of the finest drinks from the Kit Kat Club's bars including:
The Toast of Mayfair
"I used to love pretending I was someone else, someone quite mysterious and fascinating.
Until one day I grew up and realized I was mysterious and fascinating. I'm Sally Bowles." 
Tasting notes: Moët Brut Imperial, Amaretto, Lychee
Moët & Chandon Brut Impérial
Moët & Chandon Rose Impérial
Premium Wine, Beer, And Soft Drinks  
FREQUENTLY ASKED QUESTIONS
Subject to availability, the suite can be booked for any performance of Cabaret at the Kit Kat Club (Monday to Saturday evenings, plus matinee performances on Wednesdays and Saturdays). There are no performances on Sundays.
There isn't a minimum spend. There is, however, a minimum booking size of 8 people and we can accommodate up to 26 guests. 
The Moët & Chandon Suite package includes exceptional seats situated at the front of the Dress Circle as standard. Subject to availability, stage-side table seats are also available for an additional charge. 
Dom Pérignon and Krug are available (for an additional charge and pre-order required).
We recommend bookings are made at least four to six weeks before the performance you wish to attend.
The Moët & Chandon Suite is the only completely private space within the Club. It benefits from having a private bar, washrooms, cloakroom, hosts and chef. The menu is prepared from scratch whilst guests enter the Suite for the first time. The dishes are intricate but simple and adaptable for all dietary requirements.  
We are delighted to partner with Moët & Chandon to deliver an unforgettable experience that will bring even more magic to the Cabaret at the Kit Kat Club experience. Both companies are proud of bringing people together to share memorable experiences and we know that this new unique suite will offer the perfect setting to toast the occasion with champagne.
Book Tickets